NOV 5, 2012 - 12:03 ET

FOR: NWN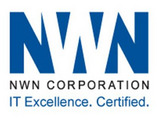 NWN's Tim Blackmon "Status of Agile in Birmingham" Panelist
BIRMINGHAM, AL--(Marketwire - November 5, 2012) - NWN's Vice President of Software Solutions and Services, Tim Blackmon, served as a panelist at the TechMixer University and Expo event at the Birmingham Jefferson Civic Center on October 24th. NWN was an expo showcase sponsor at the event, which brought professionals together for the largest single day of technology training in Alabama.
As one of five "Status of Agile in Birmingham" panelists, Blackmon provided an overview of agile principles and guidelines. This information showed how an organization can best apply an agile methodology to solve a specific business problem, being both agile and utilizing a distributed team. "The TechMixer provided an opportunity for NWN to connect with the Birmingham tech community, many of whom knew us as ComFrame," says Blackmon. "It was also a great venue for us to recruit technology professionals to meet the demand of our rapidly growing business."
NWN Corporation
NWN Corporation helps clients solve business problems through technology. The company provides clients with a complete range of information system services and solutions. These include data center and virtualization; network infrastructure; collaboration; client computing lifecycle management; software solutions consulting services, security, workforce agility; and managed services.
NWN is a substantial corporation with more than 550 employees in 14 offices in the US and one in China. The company has been recognized as one of the fastest growing, privately-held IT solutions companies in the country, ranking fifth in Inc. magazine's annual survey. NWN is privately held and woman-owned.
NWN's clients include private and public sector organizations in almost every line of work. It provides solutions to universities, PreK-12 districts and schools, financial institutions, manufacturers, hospitals, retailers, professional service providers, and state and local government agencies.
Contact
Chari Rhoades
NWN Corporation
916.637.2138
Email Contact