Woodloch Resort Wins Pennsylvania Tourism & Lodging Association Award
FOR:
WOODLOCH RESORT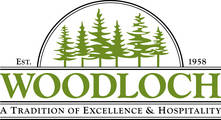 MAY 2, 2012 - 14:33 ET
Poconos Resort Honored for Exemplary Community Service
HAWLEY, PA--(Marketwire - May 2, 2012) - The Pennsylvania Tourism & Lodging Association presented Woodloch Pines, an all-inclusive family resort located in Pennsylvania's Pocono Mountains, with the Spirit of Hospitality Community Service Award, honoring BK Hope Cures Foundation for its significant strides in the fight against cancer.
The Pennsylvania Tourism & Lodging Association (PTLA) is a private, non-profit, membership-based association that works to promote and enhance the tourism and lodging industry within Pennsylvania. The Spirit of Hospitality Awards honor businesses that demonstrate exceptional performance, commitment and achievements in the hospitality and tourism industry. The awards ceremony took place on April 23, 2012 at the Sheraton Harrisburg-Hershey. These prestigious awards recognize outstanding qualities that set the standards for the entire industry.
BK Hope Cures was established by Bob Kiesendahl (BK), co-owner of the Poconos resort and leukemia survivor. The organization's mission is to raise awareness and funds in the fight against cancer. Funds raised benefit The Fred Hutchinson Cancer Research Center, The Lance Armstrong Foundation LIVESTRONG, Endowed Leukemia Research Fund at Penn State Hershey Medical Center, The Leukemia and Lymphoma Society, and Susan G. Komen for the Cure.
Each year, BK Hope Cures hosts four separate events across multiple Woodloch properties. These events include a swim-a-thon, a 5K run/walk, a golf tournament, and a Tricky Tray fundraiser. Over the past 12 years, BK Hope Cures has raised nearly three-quarters of a million dollars over the last 12 years.
"This award serves as a tribute to our entire Woodloch Family, our staff, and the whole community who came together through several efforts to create hope for those affected by cancer," says Bob Kiesendahl.
To obtain more information, please visit Woodloch or BK Hope Cures, or call 1-800-Woodloch.
About Woodloch Pines Resort:
Creating a magical experience for families since 1958, Woodloch Pines Resort's signature warm hospitality keeps guests returning year after year and offers a truly unique all-inclusive family vacation experience fitting for everyone's taste. An award-winning family resort, championship golf course and sister property featuring a luxury destination spa is just 95 scenic and convenient miles from New York City nestled in the Pocono Mountains Lake Region.