NOW - "No Opportunity Wasted" Energy Bar at the 2012 Amgen Tour of California
MAY 3, 2012 - 11:55 ET
FOR:
EUROPA SPORTS PRODUCTS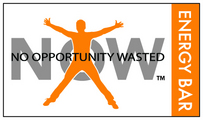 ---
CHARLOTTE, NC--(Marketwire - May 3, 2012) - Phil Keoghan's passion for cycling makes his NOW brand of gluten-free products a natural fit for the Amgen Tour of California set for May 13-20. Recognized as the host of "The Amazing Race™" and esteemed for cycling 3,500 miles across America to raise awareness for The National MS Society, Phil knows firsthand that portable nutrition is essential for athletes to achieve optimal energy on the go.
"I'm an avid cyclist," said Phil Keoghan, owner/founder of the NOW brand. "Supporting this first-class event reaffirms NOW's commitment to supporting healthy lifestyles and energizing athletes." Beyond brand products, Keoghan also launched the NOW Professional Women's Cycling team in 2011.
Featuring 16 of the world's most elite cycling teams, the 2012 Amgen Tour of California is an eight-day, road race event that will attract over two million spectators and be broadcasted to over 200 countries. Teams and riders participating in the race include Summer Olympic hopefuls and Tour de France contenders. The tour will span 750 miles, from Santa Rosa to Beverly Hills with a live finish in downtown Los Angeles. From the intense competition to the festive atmosphere, the Amgen Tour is celebrated as America's greatest cycling race.
Unique to this event are the free Lifestyle Festivals, located near the finish line at each stage of the race. The Lifestyle Festivals provide the perfect pre- and post-race hospitality for athletes and fans to mingle among various vendors and sponsors. The NOW brand will be exhibiting energizing race packs and sampling delicious new gluten-free products at five Lifestyle Festivals along the tour: Santa Rosa, Santa Cruz, Big Bear Lake, Mt. Baldy and Los Angeles.
Cycling is a sport that demands endurance nutrition. The body can store enough glycogen to support approximately 90 minutes of moderate exercise. High-intensity cyclists turn to portable nutrition in order to get the glucose that will fuel their muscles. The NOW brand helps cycling enthusiasts take their skills to the next level with proper nutrition choices on the go. NOW Energy Bars are all-natural, gluten-free and have an ideal 4:1 carb to protein ratio for fueling and maintaining energy levels during endurance activities. Perfect for cyclists planning to pedal their way to top performance.
Unlike the average energy bar, NOW bars contain white chia seeds, which provide essential fatty acids and regulate electrolytes. Additionally, NOW bars are the only US marketed brand made with New Zealand's potent Manuka Honey, which has inherent health benefits to help boost the immune system. NOW Energy Bars are available in two flavors, Peanut & Carmel or nut-free Honeycomb with Chia & Raisin. NOW Energy Bar is exclusively distributed by Europa Sports Products. To find the nearest retail locations carrying NOW products, visit NowEnergyBar.com.
Media Contact:
Devon Bjorklund
Europa Sports Products
704-405-9287
Email Contact