American Medical Association Foundation to Award 25 Grants for Grassroots Health Education
MAY 18, 2012 - 11:50 ET
FOR:
AMA FOUNDATION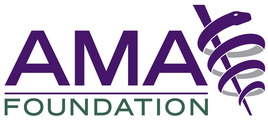 ---
Organizations Encouraged to Apply for a Prescription Medication Safety Grant
CHICAGO, IL--(Marketwire - May 18, 2012) - The American Medical Association (AMA) Foundation is now offering grants for community organizations that provide educational programming about the dangers of prescription drug abuse.
Each year, the AMA Foundation awards grants to grassroots health education programs that promote healthy lifestyles and improve wellbeing at the community level. The Healthy Living Grant program has supported 288 nonprofit organizations in teaching young people about nutrition, physical fitness and violence prevention.
In 2012, the Healthy Living Grant program will focus on supporting medical organizations with prescription medication safety projects targeting children and youth ages 2 to 21. The AMA Foundation will award $8,000 grants to approximately 25 medical organizations, supported by a generous grant from Purdue Pharma LP.
"Supporting community based awareness and prevention programs is vital to helping deter medication misuse and abuse," said Pamela Bennett, RN, BSN, CCE Executive Director of Healthcare Alliance Development with Purdue Pharma LP. "Following the success of the AMA Foundation's funding of prescription drug abuse prevention initiatives last year, we are pleased to support increased funding for individual Healthy Living grants to communities in 2012."
Medical organizations (defined as hospitals, free clinics, public health departments, medical schools and/or nonprofit organizations) are encouraged to collaborate with nonprofits, schools or government entities on the prescription safety projects.
In previous years, prescription safety Healthy Living Grants have funded youth-led social media campaigns, parental toolkits and workshops, and age-appropriate e-learning modules.
Applications for the 2012 Healthy Living Grants must be received by Monday, July 16. For more information about the application process, or about previous Healthy Living Grant recipients, visit www.amafoundation.org/go/healthyliving or contact Program Officer Dina Lindenberg.
The AMA Foundation, a 501(c)(3) tax-exempt foundation, is dedicated to improving public health by raising funds and providing philanthropic support to high-impact health and medical scholarship programs. Visit www.amafoundation.org or follow us on Facebook to join the AMA Foundation in improving the health of Americans.
Media Contact:
Nicole Gillespie
AMA Foundation
(312) 464-5864
nicole.gillespie@ama-assn.org