iNDEX
<- Back
Cyclone Power Technologies Files Quarterly Report on Form 10-Q and Releases Progress Letter to Shareholders
FOR: CYCLONE POWER TECHNOLOGIES, INC.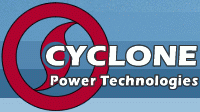 ---
MAY 22, 2012 - 09:06 ET
POMPANO BEACH, FL--(Marketwire - May 22, 2012) - Cyclone Power Technologies (OTCQB: CYPW) (PINKSHEETS: CYPW) has filed with the Securities and Exchange Commission its Quarterly Report on Form 10-Q for the period ended March 31, 2012, and has released the following progress report to its shareholders:
Dear Shareholders:
Greetings from South Florida! Half way through the second quarter of 2012, Cyclone Power Technologies is on the verge of completing important customer contracts, delivering engines, generating revenue, and building a solid foundation for on-going product sales. These are all very exciting developments that lead us to say with confidence -- Cyclone is turning the corner.
Our March 31, 2012 financial statements have been provided in our Quarterly Report on Form 10-Q on file now with the Securities & Exchange Commission (SEC). Therefore, we would like use this opportunity to provide you with some future visibility. These forward-looking highlights include:
We are forecasting at least $350,000 in revenue in Q2 2012. We aim never to have another reporting period without generating revenue.


We will deliver engines to Raytheon in Q2 2012, per our contract. This delivery will mark a major milestone for Cyclone.


We will commence the integration in Q2 2012 of our Waste Heat Engine (WHE-25) with the Phoenix Power Group's waste oil combustion system developed in conjunction with Clean Burn / Lanair, leading to anticipated system delivery for our customer in Q3 2012.


We will commence work in Q2 2012 on the Mark V engines for Combilift, a leading industrial equipment manufacturer, with an estimated delivery by the end of the year.


We will continue to secure the alliances throughout 2012 that will add value to our engine technology, including seeking a partnership with a high-tech generator manufacturer.


We will look to further expand and monetize our portfolio of over 31 patents worldwide, including forming partnerships in regions like Australia and Europe to manufacture and sell Cyclone engines.

We will claim the land speed record for steam powered vehicles in 2012.
Our significant progress since the beginning of 2012 is part of the reason that we are confident in setting these expectations for the coming quarters. Accomplishments that we have already made this year include:
Completing the acquisition of Advent Power Systems, including its $1.4 million Phase I contract with U.S. Army/TACOM to develop a compact, all-fuel auxiliary power unit for combat vehicles. We believe that the novation process (the government's recognition of Cyclone as the prime contractor) is almost complete, which will allow us to resume work on this exciting program shortly.


Teaming with Enginuity Energy to develop biomass and waste-to-energy products utilizing their robust gasifier technology which is already being used in agricultural applications.


Bringing on-board the engineering and product development expertise of Karl Petersen, and the business development experience of Douglas Hutchinson.


Signing Bonneville veteran and two-time drag racing champion Nelson Hoyos to lead our new performance division, Cyclone-Team Steam USA; and completing a license to use the speed record holding body of George Poteet's and Ron Main's streamliner Speed Demon.


Presenting Cyclone technology at the prestigious Department of Energy ARPA-e showcase.
We feel confident that by the end of 2012 we will have products readily available for sale. Of our several engine models, our WHE-25 is the closest to market. We are currently adding manpower and resources to this engine program so we can get into production by early 2013. Likewise, upon the completion of the Raytheon contract, we will be able to shift additional resources to Mark V engines for other projects including Combilift, the Team Steam land speed record attempt, and new customers who we already have in line to purchase these engines.
We measure our progress and performance by the strides we make in our technological development every day. We see results of this as we complete customer contracts, secure new business opportunities, and strengthen our corporate and financial position. We are confident in our ability to execute our business plan and further our mission to commercialize the Cyclone Engines for renewable power and clean transportation applications worldwide. For your support and encouragement along this path, we thank you.
Sincerely,
/s/ Harry Schoell
Harry Schoell, Chairman & CEO
About Cyclone Power Technologies
Cyclone Power Technologies is the developer of the award-winning Cyclone Engine -- an all-fuel, clean-tech engine with the power and versatility to run everything from waste energy electric generators and solar thermal systems to cars, trucks and locomotives. Invented by company founder and CEO Harry Schoell, the patented Cyclone Engine is a eco-friendly external combustion engine, ingeniously designed to achieve high thermal efficiencies through a compact heat-regenerative process, and to run on virtually any fuel -- including bio-diesels, syngas or solar -- while emitting fewer greenhouse gases and irritating pollutants into the air. The Cyclone Engine was recognized by Popular Science Magazine as the Invention of the Year for 2008, was included in a 2011 report by Popular Mechanics as an important waste energy technology for the future, and was twice presented with the Society of Automotive Engineers' AEI Tech Award. Additionally, Cyclone was named Environmental Business of the Year by the Broward County Environmental Protection Department. For more information, visit www.cyclonepower.com.
Safe Harbor Statement
Certain statements in this news release may contain forward-looking information within the meaning of Rule 175 under the Securities Act of 1933 and Rule 3b-6 under the Securities Exchange Act of 1934, and are subject to the safe harbor created by those rules. All statements, other than statements of fact, included in this release, including, without limitation, statements regarding potential future plans and objectives of the company, are forward-looking statements that involve risks and uncertainties. There can be no assurance that such statements will prove to be accurate and actual results and future events could differ materially from those anticipated in such statements. The company cautions that these forward-looking statements are further qualified by other factors. The company undertakes no obligation to publicly update or revise any statements in this release, whether as a result of new information, future events or otherwise.
FOR FURTHER INFORMATION PLEASE CONTACT:
Cyclone Investor Relations
American Capital Ventures
Howard Gostfrand
President
Tel: 305-918-7000
info@amcapventures.com

Media Contact
Will Wellons
407-462-2718
will@redletterpr.com