iNDEX
<- Back
ESP Resources Launches Facility & Pipeline Services Division; Business Already Seeing Considerable Growth
FOR: ESP RESOURCES, INC.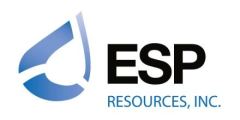 ---
JUL 18, 2012 - 09:00 ET
SCOTT, LA--(Marketwire - July 18, 2012) - ESP Resources, Inc. (OTCBB: ESPI) (the "Company" or "ESP Resources"), an oil and gas services company, announced the formation of a new business division, ESP Facility & Pipeline Services, Inc. ("ESP FPS") that is already seeing considerable growth.
ESP FPS provides services for the upstream, midstream and downstream sectors of the energy industry, including new construction, major modifications to operational support for onshore and offshore production, gathering, refining facilities and pipelines designed to optimize performance and increase operators' return on investment. Services include Asset Management, Gas Dehydration Unit Management, Operating Personnel Training, Decommissioning and Asset Removal Support Services, Nitrogen, Air and Compression Services and other services, both onshore and offshore.
Since inception, ESP FPS's revenues have already exceeded $500,000 in the second quarter, and the Company estimates revenues to exceed $1,500,000 by the end of 2012 with projects that are already underway.
ESP FPS is currently expanding services to the Eagle Ford and Bakken Shale plays. Internationally, long-term projects are being assessed in West Africa and the Middle East.
Commenting on the new division, Dave Dugas, President & CEO, said, "For many months now, our team at ESP has set its sights on building a comprehensive portfolio of oil and gas company-related services, broadening our domestic and international markets served, and growing and diversifying our revenue streams. The creation of our new Facility & Pipelines Services division is another step forward to meeting those goals. Within a short amount of time of providing the services to a new clientele base, we are pleased to say we are off to a great start. We are excited to be offering even more services to our new and existing oil and gas company clientele and look forward to continuing our growth in this exciting space."
About ESP Resources, Inc.:
ESP Resources, Inc. is a publicly traded oil and gas services company (OTCBB: ESPI) headquartered in Scott, LA. Through its wholly owned subsidiary, ESP Petrochemicals, Inc., the Company manufactures, blends, distributes and markets specialty chemicals and analytical services to the oil and gas industry. ESP Resources supplies retail and wholesale specialty chemicals for a variety of oil field applications including production, drilling, waste remediation, cleaning, and waste water treatment. From its blending and distribution facilities, the Company distributes its product line throughout the oil and gas producing regions of Louisiana, Texas, Mississippi, Alabama, Arkansas and Oklahoma, both onshore and offshore. The wholesale division of the Company supplies specialty chemicals to several retailers operating in West Africa. The Company's senior management has over 100 years of combined operating experience in the petrochemical industry. More information is available on the Company's Website at www.espchem.com.
Legal Notice Regarding Forward-Looking Statements:
This press release contains "forward looking statements" within the meaning of the safe harbor provisions of the U.S. Private Securities Litigation Reform Act of 1995. Statements in this news release that are not historical facts are forward-looking statements that are subject to risks and uncertainties. Forward-looking statements are based on current facts and analyses and other information that are based on forecasts of future results, estimates of amounts not yet determined and assumptions of management. Forward looking statements are generally, but not always, identified by the words "expects," "plans," "anticipates," "believes," "intends," "estimates," "projects," "aims," "potential," "goal," "objective," "prospective," and similar expressions or that events or conditions "will," "would," "may," "can," "could" or "should" occur. Information concerning oil or natural gas reserve estimates may also be deemed to be forward looking statements, as it constitutes a prediction of what might be found to be present when and if a project is actually developed. Actual results may differ materially from those currently anticipated due to a number of factors beyond the reasonable control of the Company. It is important to note that actual outcomes and actual results could differ materially from those in such forward-looking statements.
Readers are cautioned not to place undue reliance on the forward-looking statements made in this press release. In evaluating these statements, you should consider the risks discussed, from time to time, in the reports we file with the U.S. Securities & Exchange Commission. For a discussion of some of the risks and important factors that could affect the Company's future results and financial condition, see the Company's Form 10-Ks and 10-Qs on file with the U.S. Securities & Exchange Commission.
FOR FURTHER INFORMATION PLEASE CONTACT:
Company Contact:

David Dugas
President
ESP Resources, Inc.
david.dugas@espchem.com
(337) 706-7056

Investor Relations Contact:

Howard Gostfrand
President
American Capital Ventures, Inc.
info@amcapventures.com
(305) 918-7000