iNDEX
<- Back
Sorenson Communications Presents Newest Technology and Video Center Celebrities at DeafNation World Expo
FOR: SORENSON COMMUNICATIONS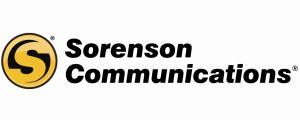 ---
JUL 26, 2012 - 10:15 ET
SALT LAKE CITY, UT--(Marketwire - July 26, 2012) - Sorenson Communications will offer hands-on demonstrations of Sorenson ntouch® technology at DeafNation World Expo, July 31 through Aug. 1, at the Mandalay Bay Convention Center, 3950 Las Vegas Boulevard South, in Las Vegas, Nev. Expo hours are 9 a.m. to 5 p.m. daily. Admission is free, but requires advance registration at www.deafnation.com.
Expo attendees who stop by the Sorenson Communications booth will also enjoy games, the chance to enter a daily iPad® giveaway and presentations by the celebrities who appear on Sorenson Video Center programs. The newly-enhanced Sorenson Video Center offers information and entertainment produced especially for deaf audiences. The Video Center is available to customers who use Sorenson products for home, mobile and PCs.
Video Center celebrities will appear in the Sorenson booth at the following times.
July 30, 2 p.m.: Sean Forbes, co-founder of Deaf Performing Arts Network (D-PAN), will share how he translates lyrics into American Sign Language music videos for the deaf and hard-of-hearing communities.
Forbes will also perform at 3:30 p.m. on the DeafNation stage.
July 31, 2 p.m.: Meet "Deaf Perspective" host and actress Deanne Bray and co-hosts Melvin Patterson and Julia Velasquez. Deaf Perspective addresses current events and deaf-related topics. The cast of Deaf Perspective will sign autographs at the Sorenson Booth at 2:30 p.m.
Aug. 1, 2 p.m.: Matthew Baker, founder of San Diego-based "Feast on This" catering, hosts the Video Center's "Cooking Simply." He will share cooking tips and tricks he has learned in the food service and restaurant businesses.
"We are looking forward to meeting old and new friends from all over the world at this year's DeafNation World Expo," notes Ron Burdett, Sorenson Vice President of Community Relations. "Trainers in the Sorenson booth will show Expo participants the latest in Sorenson ntouch technology."
About Sorenson Communications
Sorenson Communications® (www.sorenson.com) is a provider of industry-leading communications products and services for the deaf and hard-of-hearing. The company's offerings include Sorenson Video Relay Service® (SVRS®), the highest-quality video interpreting service; the new Sorenson ntouch® VP videophone, designed especially for use by deaf individuals; ntouch® PC, software that connects users to SVRS by using a PC and webcam; ntouch® Mobile, an application empowering SVRS communication via mobile devices; and Sorenson IP Relay® (SIPRelay®), a text-to-speech relay service.
FOR FURTHER INFORMATION PLEASE CONTACT: