iNDEX
<- Back
Overhill Farms to Issue Third Quarter Results and Hold Conference Call on August 14, 2012
FOR: OVERHILL FARMS, INC.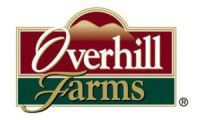 ---
AUG 7, 2012 - 16:02 ET
LOS ANGELES, CA--(Marketwire - August 7, 2012) - Overhill Farms, Inc. (NYSE MKT: OFI) today announced that the Company anticipates announcing third quarter 2012 results on Tuesday, August 14, 2012.
Conference Call
Overhill Farms will host a conference call on August 14, 2012, at 1:00 p.m. EDT (10:00 a.m. PDT). Shareholders and investment professionals can participate by dialing 877-407-9210. A webcast of accompanying slides will be at http://www.investorcalendar.com/IC/CEPage.asp?ID=169468.
ABOUT Overhill Farms
Overhill Farms, Inc. (www.OverhillFarms.com) is a value-added supplier of custom high quality prepared frozen foods for branded retail, private label foodservice and airline customers. Its product line includes entrées, plated meals, bulk-packed meal components, pastas, soups, sauces, poultry, meat and fish specialties, as well as organic and vegetarian offerings. The Company's capabilities give its customers a one-stop solution for new product development, precise replication of existing recipes, product manufacturing and packaging. Its customers include prominent nationally recognized names such as Panda Restaurant Group, Inc., Jenny Craig, Inc., Safeway Inc., Target Corporation, Pinnacle Foods Group LLC, and American Airlines, Inc. The Company also sells frozen foods under the Boston Market brand, under exclusive license with Boston Market Corporation.
FOR FURTHER INFORMATION PLEASE CONTACT:
Contacts:

James Rudis
Chairman, President and CEO
Overhill Farms, Inc.
323-582-9977

Alexander Auerbach
Auerbach & Co. Public Relations
1-800-871-2583
Email Contact