Marketwired News
Covanta Energy Facilities Recycle Used Rechargeable Batteries and Cell Phones in Honor of Earth Day
APR 19, 2012 - 11:33 ET
FOR: COVANTA ENERGY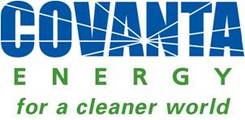 Covanta's Clean World Initiative Works to Remove Potentially Harmful Materials From the Waste Stream and Recycle Them Properly
MORRISTOWN, NJ--(Marketwire - April 19, 2012) - In celebration of the 42nd anniversary of Earth Day, Covanta Energy, the nation's largest operator of the energy-from-waste facilities, is collecting used rechargeable batteries and cell phones for recycling. The collection is part of Covanta's Clean World Initiative, a company-wide sustainability movement that works to remove potentially harmful materials from the waste stream and educate the public on energy-from-waste and sustainable waste management.
"We are excited to help recycle used rechargeable batteries and cell phones properly and proud that all Covanta Energy sites are participating," said Meg Morris, Covanta Energy's director of environmental science and community affairs. "It's important for people to be aware of what they are throwing in the trash and know their options for disposal and recycling. Covanta is committed to providing the cleanest, most reliable source of energy from waste in the world."
Rechargeable batteries are a long-lasting power source for many electronic devices, including laptop computers, cell phones, portable scanners and printers, power tools, and PDAs. These batteries should always be properly recycled due to some of their components, such as lead, cadmium, and nickel. If simply thrown into household trash cans, batteries can release these materials and can act as toxins in the environment.
Covanta is partnering with Call2Recycle® (www.call2recycle.org), the only free rechargeable battery and cell phone collection program in North America. Since 1996, 70 million pounds of rechargeable batteries have been collected through Call2Recycle. Call2Recycle is the first battery program to attain Basel Action Network e-Steward qualification, which recognizes electronics recyclers that adhere to the most stringent environmentally and socially responsible practices and upholds strict third-party standards for environmental safety and social responsibility.
"We are proud to work with Covanta as they continue to put into practice their commitment to recycling in their internal business operations," said Carl Smith, CEO and president of Call2Recycle. "It is exciting to see how their employees have enthusiastically embraced our program to collect and recycle rechargeable batteries."
"As with other programs that Covanta has initiated, we are working with the communities in which we operate in the recovery of rechargeable batteries. In addition, with this program, we are reaching out to our supply chain partners to create a greater influence on collection of these batteries. It is our hope that we can get others to join us in the effort," continued Morris.
Since its launch in 2007, Covanta's Clean World Initiative (CWI) has worked diligently to remove potentially harmful materials from the waste stream. In addition to collection efforts in support of the proper disposal of used rechargeable batteries, the company's mercury collection programs regularly collect unwanted mercury-containing devices such as thermostats and thermometers, and fluorescent light bulbs. Mercury is a known toxin that is potentially hazardous to human health if the devices in which it is contained are not properly captured. Since its inception, the program has collected over 1,400 pounds of mercury.
Another success under Covanta's CWI has been the Rx4Safety program. Working with municipalities and law enforcement agencies nationwide, Rx4Safety provides the safe disposal of unwanted pharmaceuticals and medications collected by drug take-back programs free of charge. To date, this program has destroyed more than 240,000 pounds of unwanted medications, helping to keep waterways and drinking water safe, and removing these drugs from potential abuse.
Recovering energy from waste after efforts to reduce, reuse and recycle have been employed is a critical component of managing residual waste. For every ton of municipal solid waste processed at Covanta Energy's energy-from-waste facilities, greenhouse gas emissions are reduced by the equivalent of approximately one ton less of carbon dioxide emissions. This is possible due to the avoidance of methane from landfills, the offset of greenhouse gases from fossil fuel electrical production and the recovery of metals for recycling. Covanta's energy-from-waste facilities annually offset approximately 20 million tons of greenhouse gases, the equivalent of the carbon sequestered by planting 460 million trees.
For more information, visit Covanta's Earth Day webpage at covantaenergy.com/earthday or follow us on Facebook, Twitter or YouTube.
About Covanta Energy
Covanta Energy is an internationally recognized owner and operator of large-scale Energy-from-Waste and renewable energy projects and a recipient of the Energy Innovator Award from the U.S. Department of Energy's Office of Energy Efficiency and Renewable Energy. Covanta's 46 Energy-from-Waste facilities provide communities with an environmentally sound solution to their solid waste disposal needs by using that municipal solid waste to generate clean, renewable energy. Annually, Covanta's modern Energy-from-Waste facilities safely and securely convert approximately 20 million tons of waste into 9 million megawatt hours of clean renewable electricity and create more than 9 billion pounds of steam that are sold to a variety of industries. For more information, visit www.covantaenergy.com.
Contact:
James Regan
Covanta Energy
862-345-5216