Marketwired News
Georgetown Corp. Reorganizes Capital Structure
JUN 11, 2012 - 07:30 ET
FOR: GEORGETOWN CORPORATION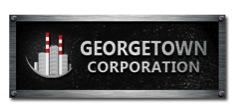 OKLAHOMA CITY, OK--(Marketwire - June 11, 2012) - GEORGETOWN CORPORATION (OTCBB: GTCP) announces that it has successfully negotiated a cancellation of 265 million common shares and 25 million previously designated Class "A" preferred shares.
The Company believes that the reduction of 200 million restricted and 65 million unrestricted common shares is an important first step in the company's growth strategy. In addition, the cancellation of the 25 million Class "A" preferred shares with multiple voting rights reaffirms Georgetown's commitment to its common shareholders and its adherence to its corporate governance policies.
"This demonstrates our confidence in the long-term growth of the company and our commitment to returning capital to our shareholders. At every turn, we will continue to seek opportunities to add value to the Company and build shareholder value," commented Carl Swan, CEO.
On completion of the corporate actions necessary to effect the cancellation of the shares, the Company will have approximately 275 million common shares issued and outstanding.
About Georgetown Corp.
Georgetown is an exploration or exploratory stage company involved in the examination and investigation of land that may contain valuable minerals. The Company plans to continue its growth organically, search for new acquisitions, and expanding geographically. It also plans to provide oilfield services and equipment to independent and major oilfield companies in exploration, production and development of oil and gas properties, domestically and in selected international markets.
For more information about Georgetown Corp. please contact:

Investor Relations Department

1-877-646-0090
Email Contact